William's 100 Miles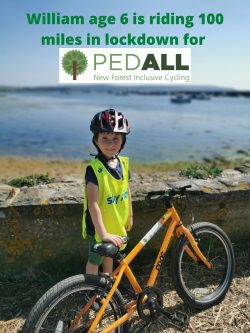 William now 7, who just had his birthday during lock down, is riding 100 Miles for PEDALL.
During Lock down we have been unable to run as normal meaning that those who rely on us for their only means to get out and exercise the body and mind can't. There isn't much we can do to help apart from be ready once we are allowed to do so.
Unfortunately, many of the charities and organisations we take for rides are struggling financially.  William is fundraising on their behalf and it would mean that we would be able to help provide rides for these groups, with a 6 week course being £240  for ten people, he would love for the money raised to be able to fund as many of these courses as possible. 
Some of the groups who are currently missing their regular rides with us are The Minstead Trust and The Stable Family Home Trust, who are struggling with funds, and Care Homes who have been hit hard because of the Virus. We are also looking at ways we can help Key Workers and their families who maybe struggling with their Mental Health during this time.
Money Raised will also go towards the upkeep of all the bikes and the purchasing of new ones.
But we can't do it with out your help. If we are able to raise enough to help them get back out riding in the New Forest, it would make a lot of people very happy.
Here are the links to his rides so far:
Ride one: https://www.relive.cc/view/vr63ZPDB78O  10.25 Miles
Ride two: https://www.relive.cc/view/vmqX14kyEov  11.4 Miles  (21.65 Miles)
Ride three: https://www.relive.cc/view/vMq5d5j1AQ6  11.4 Miles  (33.05 Miles)
Ride four:  https://www.relive.cc/view/veqzDeeNQ7O  13 Miles  (46.05 Miles)
Ride Five: https://www.relive.cc/view/vMq5d5ARWQ6  6.2 Miles (52.25 Miles)
Ride Six: https://www.relive.cc/view/vJOKXPAp2w6  12 Miles (64.25 Miles)
Ride Seven: https://www.relive.cc/view/v7O9w8MJmLq  9.6 Miles (73.85 Miles)
Ride Eight: https://www.relive.cc/view/vJOKX3nxn56 12.4 Miles (86.24 Miles)
William has done it, he has completed his 100 miles here is the final ride which started from home and  finished at our base: 
Ride Nine: https://www.relive.cc/view/vmqX1Pn4jov  15 Miles (101.24 Miles)
To contribute to Williams Fundraising efforts please donate through the following link William 100
Here is the video from the final ride – Lymington to Burley
Check out our video from ride 8